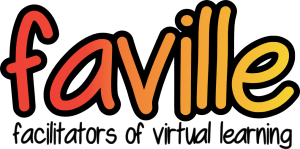 PROJECT NAME: Faville – facilitators of virtual learning
PROJECT NUMBER: 2019-1-SK01-KA204-060711
PROGRAM: Erasmus +
PROJECT DURATION: 1 October 2019 – 30 November 2021
PARTNERS:
ASTRA – Association for innovation and development, coordinator, Slovakia
IDEC – Aintek Symvouloi Epicheiriseon Efarmoges Ypsilis Technologias Ekpaidefsi Anonymi Etaireia; idec.gr; Greece
HT srl; http://www.ht-apps.eu/; Italy
HOU – Hellenic Open University;  eap.gr;  Greece
DIE – Deutsches Institut fuer Erwachsenenbildung eV Leibniz-Zentrum für Lebenslanges Lernen; die-bonn.de; Germany
ENTRE – ENTRE, s.r.o., Slovakia
UAB – Universidade  Aberta; uab.pt; Portugal
MAIN TARGET GROUPS:
Faville – facilitators of virtual learning
Teachers, trainers and other adult education professionals
Formal and non-formal education providers
PROJECT OBJECTIVE:
The aim of the FAVILLE project was to support the ever-growing sector of e-learning and virtual learning and to contribute to improving its quality. Despite the growing number of virtual courses – even free – the expected and desired quality is often low. Although there may be several reasons for that, virtual learning facilitators are one of the keys to improvement. The term virtual learning facilitator is relatively new and is often used interchangeably with terms such as e-tutor, online tutor, online instructor, virtual facilitator, etc… In fact, we see a virtual learning facilitator as a person who facilitates learning, engages, motivates and supports students, their communication and collaboration, and creates opportunities for teamwork. Through various motivational techniques, he/she supports the involvement of students in educational activities. The knowledge, skills and competences required by the facilitator's work are diverse and complex, which is unfortunately often overlooked or underestimated. The consequence is a lack of quality virtual learning facilitators – who can motivate and engage students in different types of activities, create and manage group dynamics, develop collaboration opportunities, identify obstacles to learning, design appropriate solutions to support students in their efforts.
PROJECT OUTPUTS:
Modular e-learning program for virtual learning facilitators.
A digital application that, in addition to describing individual facilitation methods and examples of their use, also offers an easy-to-use function to select appropriate methods according to the parameters (eg profile, course subject, number of students in the learning group, type of problem, etc.).
A framework for validating skills and competences for obtaining professional qualifications for those facilitators who have acquired their skills, knowledge and competences outside the formal learning process in non-formal and informal learning.